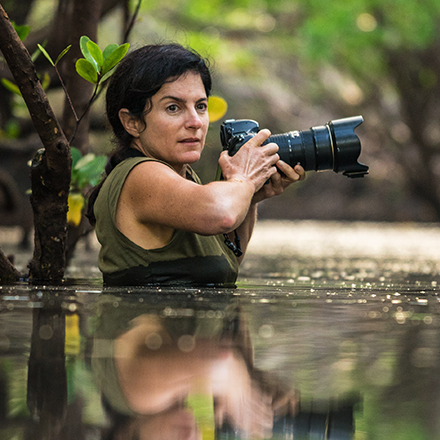 "In the beginning, photography was my passport to meeting people, learning, and experiencing new cultures. Now it is more than just a passport. It's a tool for creating awareness and understanding across cultures, communities, and countries; a tool to make sense of our commonalities in the world we share."
Ami Vitale
Photographer, Filmmaker
Talks
Photographing Hope
Imagine a world where all life is considered equally important.  Ami went from covering conflicts to covering stories about nature and wildlife, and what she learned from pandas will surprise you. In her talk, Ami will tell you this story—a story about us, our HOME, and our future.
One Village, Nine Elephants, and the Moon
What is your lens?  What do you focus on in your world and beyond? What moves you about what you see and experience?  Now, can you imagine earning a living by what you see? Nikon Ambassador and National Geographic Magazine photographer Ami Vitale has lived in mud huts and war zones, contracted malaria, and donned a panda suit—all in keeping with her philosophy of "living the story."  
Treading Water in Bangladesh
Bangladesh is becoming Ground Zero for climate change.  Right now, it may appear far away, but our planet's ecosystem is an intricate web. Whether it becomes a model for the future or one of the great human tragedies of our time depends on the choices we make now.  Its destiny will be determined not necessarily by rising sea levels, but by the behavior of its citizens, neighbors and outside powers. Bangladesh could be disastrous scene or it just might be a model of how humanity copes with extreme environmental changes.
Bio
Ami Vitale's journalistic journey has taken her to over 100 countries where she has witnessed civil unrest, but also surreal beauty and the enduring power of the human spirit. 

Ami is an Ambassador for Nikon and a contract photographer with National Geographic Magazine. She has documented wildlife and poaching in Africa, covered human-wildlife conflict, efforts to save the northern white rhino, and reintroduce pandas to the wild. InStyle Magazine named Ami one of fifty Badass Women, a series celebrating women who show up, speak up, and get things done. 
Ami has been named Magazine Photographer of the Year and received the Daniel Pearl Award for Outstanding Reporting. She is a five-time recipient of World Press Photos, including 1st Prize for her 2018 National Geographic Magazine story about a community in Kenya protecting elephants. She recently published a best-selling book, Panda Love, on the secret lives of pandas. Ami was the subject of the Mission Cover Shot series on the National Geographic Channel as well as another documentary series featuring Madagascar (Over the Islands of Africa).  She frequently gives workshops throughout the Americas, Europe, and Asia. Ami is also a founding member of Ripple Effect Images, a collective of photographers,  filmmakers, and writers who document programs that empower women and children in the developing world.