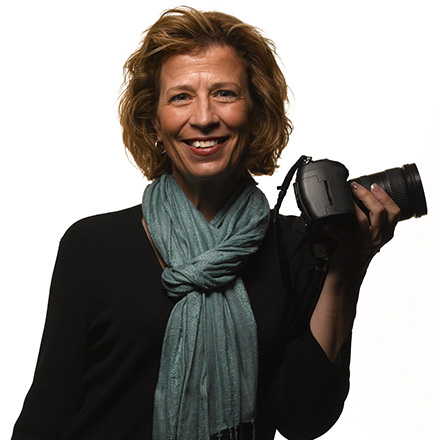 "If each of us can search inside ourselves for a little acorn of time or passion or ability, and find creative ways to offer that gift, a forest begins to grow."
Annie Griffiths
National Geographic Photographer | Founder and Executive Producer, Ripple Effect Images
Talks
Help a Woman. Help the Planet 
Annie takes us on a journey from her beginnings, as one of the first women photographers at National Geographic, to her recognition that women in the developing world are the best investment we can make in our shared future.
Connect with Anyone, Anywhere
Three decades of work in more than 100 countries have taught Annie how to quickly navigate any social situation to find points of connection. Whether working in a remote village or a major metropolis, Annie shares real life challenges and shows how humor, body language, sincerity and deeper listening can build a bridge to anywhere.
Rethinking Legacy
After years of juggling responsibilities, frantically trying to balance work and family, many of us near the finish line with a nagging feeling that there must be something more.  Kids launched, career secure, now what? In this passionate and funny presentation, Annie puts forth the joyful but uncomfortable challenge: If you want to have something in your life you've never had, you will have to do something you've never done before.
Bio
One of the first women photographers to work for National Geographic, Annie Griffiths has photographed in more than one hundred countries during her rich and varied career. She has worked on dozens of magazine and book projects for National Geographic, including stories on Lawrence of Arabia, Galilee, Petra, Sydney, and Jerusalem. In addition to her editorial work, Annie is deeply committed to using photography to support aid organizations. She is the Founder and Executive Director of Ripple Effect Images, a collective of prize-winning photojournalists and filmmakers who are documenting programs that empower women and children in the developing world. 
Known for her warmth and humor, Annie has a gift for sharing stories and photographs that humanize situations and cultures. Annie has presented at the United Nations, The Skoll World Forum, Adobe MAX, Microsoft, and Proctor & Gamble. The World Presidents Association (WPO) named Annie one of the "Best of the Best Speakers." She has been a popular guest on The Today Show, Good Morning America, and National Public Radio. Annie has received awards from the National Press Photographers Association, the Associated Press, the National Organization of Women, and the White House News Photographers Association.