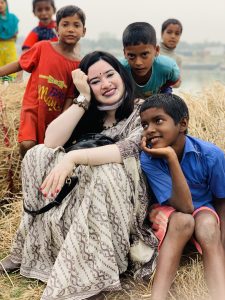 In 2018, Taheatul Jannat Remi started a free school named 'Hasimukh Pathshala' to help children from the sweeper community of Bandhabpolli in Faridpur Sadar Upazila. The school focuses on mental development, moral education, cleanliness, and proper care for children and adolescents in the community.
Besides the school, Remi also started a nonprofit organization named 'Nondita Surokkha' that works to aid gender equality, women's empowerment, menstrual health protection, child marriage, dowry prevention, prevention of sexual harassment, and mental health. When the lockdown began in the Covid-19 pandemic, this rising star worked for the vulnerable poor women and children in the Faridpur district to ensure their safety.
Living in a small developing country like Bangladesh, Remi faced many cultural obstacles from people who didn't want to see women in community leadership roles. Still, this inspiring young woman has changed the lives of over 30,000 people. She's launched Menstrual Safety Banks in 30 educational institutions in the Faridpur district to build a menstrual-friendly society in the country and establish a precedent for all to ensure the same.
Today, she is working as a coordinator in the Legal Empowerment And Gender Diversity project funded by the Bangladesh Legal Aid and Services Trust (BLAST). In 2021, Taheatul Jannat received the Inspiring Woman Volunteer Award from the United Nations with respect for her work. Remi dreams that one day all women can lead a better life and enjoy all of their god-given right.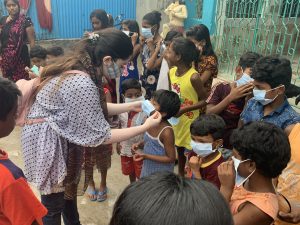 Some time ago, our incredible animation team collaborated with Heifer International to produce "Not A Cup, But A Cow" to celebrate the 75th anniversary of Heifer's founding. We learned this week that this animated film was recognized by the Academy of Interactive and Visual Arts (AIVA) for awards in Art Direction, Animation, Sound Design, and Use of Animation!
We are so proud of our team, who add these accolades to an already impressive roster of awards and recognitions for their past work. We are also thrilled that these awards will bring the message of Heifer International to an even wider audience – and aid their mission of building self-sustaining communities around the globe.
If you missed it, here's the film

Dear Ripple Supporters,
Having recently joined the Ripple team as Executive Director, let me begin by saying thank you. First and foremost, to Annie Griffiths, an extraordinary woman who has built a remarkable movement in support of women globally. I am delighted that Annie will remain a key part of the Ripple team in her new role of Executive Producer. And a huge thank you to each and every one of you, who act as advocates for Ripple in so many ways. Your generous donations, wise counsel, and unwavering support are what make Ripple's work possible. 
Thank you to our brilliant photographers, filmmakers, photojournalists, and writers – your creative talent continues to astound me. The inspiring leadership of Michelle Pohlad, Jeanne Farr and every member of Ripple's Board of Directors and Advisory Group has also been instrumental in charting Ripple's path over the past ten years. It is an honor to become part of such a fabulous and impactful team.  
Throughout my career, I've had the privilege to meet many women who, even in the face of adversity, are implementing solutions that build resilience within their communities and give hope to future generations. Having experienced firsthand the power of visual storytelling in helping scale solutions for women and children globally, I believe passionately in the role Ripple plays in illuminating effective programs and advocating for women's empowerment. Additionally, Ripple's outstanding recent animation work showcases an innovative approach to education and information delivery across cultures and languages. 
While these are challenging times for humanity, I'm heartened by so many positive stories of community, hope and love in the wake of COVID-19. Staying connected while apart has become more important than ever. In the coming weeks Ripple will share some remarkable stories of people who are truly making a difference when it matters. We'll also be facilitating online sessions that enable our supporters to connect with Ripple's extraordinary team.  Be sure to follow Ripple on Facebook, Instagram, and Twitter to stay up-to-date. We hope you can join us for these sessions!
Thank you so much for your warm welcome to Ripple, and I look forward to engaging with each of you in the coming months as we continue to buildRipple's impact in support of women and children around the world. Very best wishes to you and your families in these unprecedented times, and please feel free to get in touch with me anytime at liz@rippleeffectimages.org