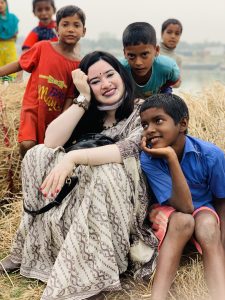 In 2018, Taheatul Jannat Remi started a free school named 'Hasimukh Pathshala' to help children from the sweeper community of Bandhabpolli in Faridpur Sadar Upazila. The school focuses on mental development, moral education, cleanliness, and proper care for children and adolescents in the community.
Besides the school, Remi also started a nonprofit organization named 'Nondita Surokkha' that works to aid gender equality, women's empowerment, menstrual health protection, child marriage, dowry prevention, prevention of sexual harassment, and mental health. When the lockdown began in the Covid-19 pandemic, this rising star worked for the vulnerable poor women and children in the Faridpur district to ensure their safety.
Living in a small developing country like Bangladesh, Remi faced many cultural obstacles from people who didn't want to see women in community leadership roles. Still, this inspiring young woman has changed the lives of over 30,000 people. She's launched Menstrual Safety Banks in 30 educational institutions in the Faridpur district to build a menstrual-friendly society in the country and establish a precedent for all to ensure the same.
Today, she is working as a coordinator in the Legal Empowerment And Gender Diversity project funded by the Bangladesh Legal Aid and Services Trust (BLAST). In 2021, Taheatul Jannat received the Inspiring Woman Volunteer Award from the United Nations with respect for her work. Remi dreams that one day all women can lead a better life and enjoy all of their god-given right.