While While passing out meager rations of powdered milk during the Spanish Civil War, Indiana farmer Dan West was distraught when the milk ran out with children still waiting in line. He realized that they needed "not a cup, but a cow."
Heifer International was born from that simple idea of empowerment, and for 75 years the organization has worked tirelessly to give families a hand up, rather than just a handout.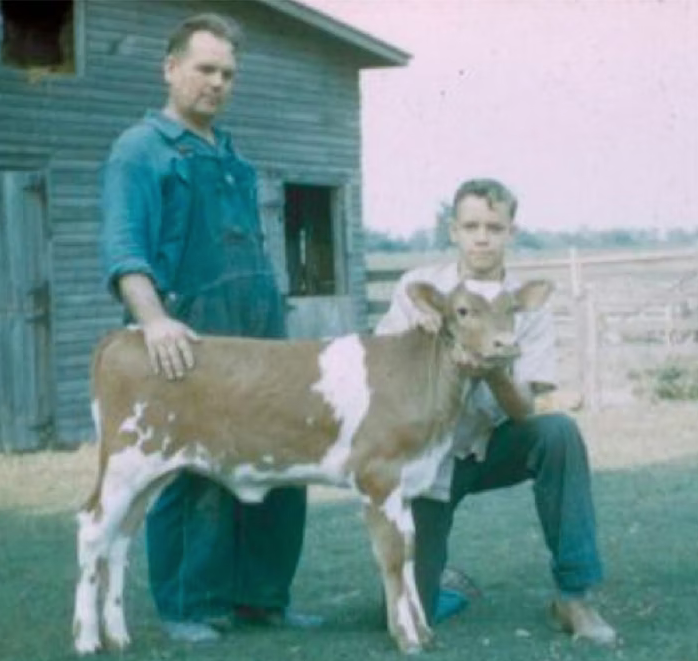 1940 – World War II
As World War II came to a haunting end, huge portions of Europe and Asia were reduced to ruins, with populations diminished, farmland demolished and hunger running rampant. Heifer became active in revitalizing these war-torn countries, including refugee resettlement centers. Groups of farmers, who dubbed themselves the Seagoing Cowboys, began escorting livestock overseas, making about 360 trips on 73 different ships. Germany was one of the many war-torn countries where Heifer worked after the war. For one displaced family, Penelope the cow made all the difference.
1950 – Korea
When war broke out between North Korea and South Korea in the middle of 1950, it left families mourning loved ones and struggling after the loss of homes and livestock. In response, Heifer shipped hundreds of thousands of eggs to South Korea in the early 1950s, followed by other livestock. By the end of 1954, there were more than 400 registered orphanages in South Korea, and they grew by about 1,000 children a week. After the war, our work in South Korea focused on the needs of orphanages. 
1960 – Mississippi
In the summer of 1955, Heifer started working with the Prentiss Institute, an African-American junior college and vocational school in Prentiss, Mississippi. Segregation and racial prejudice permeated the town, and life as a person of color was dangerous. Despite the rampant racial inequality in the community, the African-American community felt called to support white families that were also in need. The partnership between Heifer and the Prentiss Institute lasted about 30 years and eventually helped empower families to lead the charge for desegregation in their community.
Heifer International distributes animals, along with agricultural and values-based training, to families in need around the world as a means of providing self-sufficiency. Recipients must agree to "pass on the gift" by donating animal offspring, as well as sharing the skills and knowledge of animal husbandry and agricultural training with other impoverished families in the community.
1980 – Ecuador
In the 1980's, Heifer International introduced agroecology, a method of sustainable farming that centers on food production while protecting environmental resources. In Ecuador, high cattle mortality rate was one of the most pressing agricultural problems. Heifer's early work in the country focused on addressing this issue by crossbreeding and improving livestock for bull production.
1990 – Navajo Nation
During the 1990s, more than half of the Navajo Nation lived below the federal poverty line. Young people were leaving the reservation, resulting in a decreased population and workforce and increased economic instability. Particularly troubling was the deterioration of the sheep industry, which had been a vital means of income. Heifer stepped in to help Navajo sheep farmers improve their commercial wool quality and diversify their herds, reviving the tradition that had once permeated the land.
2000 – Uganda
As the AIDS epidemic ravaged across Uganda, thousands of children were left orphaned and alone. One grandmother found herself as the sole caretaker of her 15 grandchildren. See how Heifer helped ensure she could provide for them all.
2010 – Vietnam
When Danh Cuong and his wife Thi Sanh lost their home in a fire, they didn't know how they were going to provide for their sons Danh Truong and Danh Quoc An. Hopeless, they found themselves sleeping in a pigsty. But soon, Heifer provided a way for them to get back on their feet with the gift of training and a cow.
CREDITS
Animation
MAURICIO RODRIGUEZ PONS
Illustration
FENIX MEDIA
Art Direction
Nacho Corbella
Executive Producer
ANNIE GRIFFITHS
Associate Producer
JESSICA FORD
Special thanks to the archive team at Heifer International